A perfect blend of fun, adventure, and romance, a honeymoon in Lantau Island can be best experienced with this Lantau Island Hong Kong Guide. From places to visit to must experiences, this guide brings every information on your finger tips. All you gotta do is customize the best of Hong Kong and Lantau island honeymoon tours and get ready to begin the journey of a lifetime.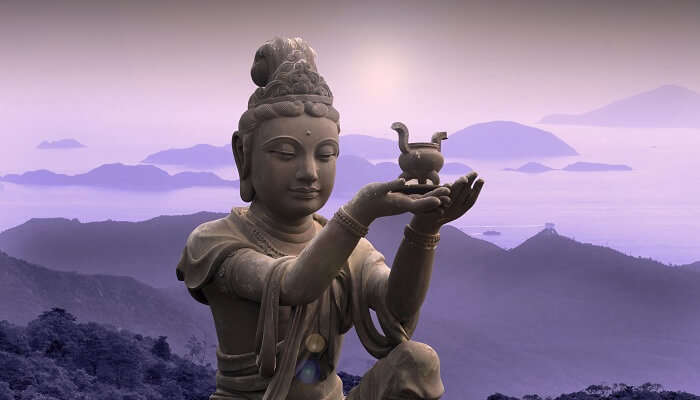 Being the biggest island in Hong Kong and measuring double the size of Hong Kong itself, Lantau Island attractions are a beautiful combination of theme parks, exciting trails for hiking, historical sites, coastal shores for romantic walks and pristine beaches. With exciting experiences such as shopping, sightseeing, and nightlife in Hong Kong lined up, a honeymoon in Lantau Island is sure to be a hit.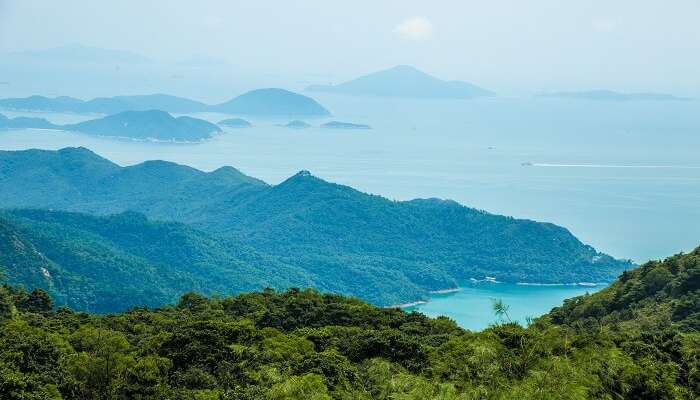 Lantau Island has a similar weather like the rest of the Hong Kong. Being a part of the sub-tropical region, Lantau Island shares all four seasons of Hong Kong that makes it an exciting destination to travel throughout the year.
Winters: December to February – The average temperature ranges between 12 degrees to 20 degrees.
Spring: March to May – The average temperature ranges from 17 degrees to 26 degrees.
Summers: June to August – The average temperature may rise from 26 degrees to 31 degrees.
Autumn: September to November – The average temperature fluctuates from 19 degrees to 28 degrees.
Whether its a Lantau Island day trip or a full fledged stay, Lantau Island can be best explored during the months from October to February as the best time to visit is when the island is cool and dry. A summer honeymoon can be planned during the end of August with the onset of Autumn as the weather is chilled out during that time of the year.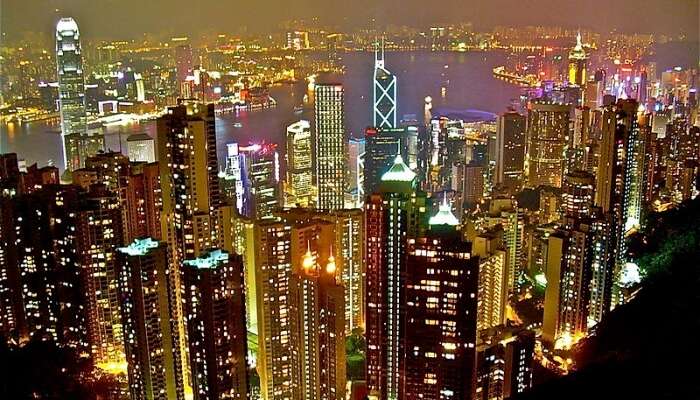 Though Lantau Island is the biggest of all islands, it can be best explored in an ideal duration of 2 days. You can explore Disneyland as well as the other attractions in that time. In case you want to explore the island at your own pace, an ideal duration of 3 days would suffice for honeymooners.
Please Note:
Since the honeymoon is going to be a combination of Hong Kong as well as Lantau Island, an ideal duration will be of 4 days and 3 nights in total.
Also, the budget proposed is for the whole duration, out of which, you'll be spending only one and a half days at the max in Lantau Island.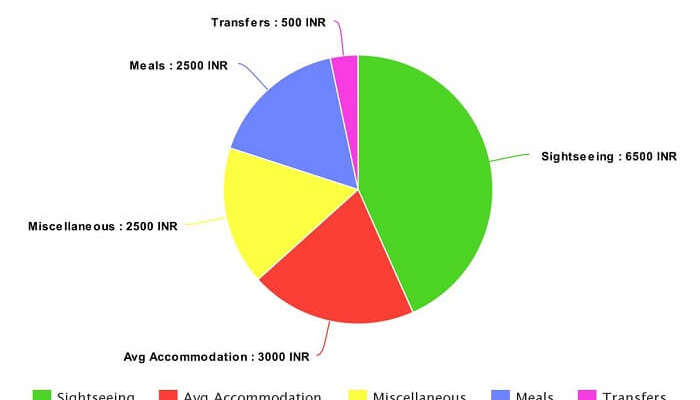 The budget includes your accommodation in Hong Kong (double-sharing basis), meals (lunch & dinner), sightseeing in Lantau Island and miscellaneous expenses in Hong Kong. Hence, the budget per person per day would be:
Flights (Economy): INR 30,000 (round trip)
Accommodation (3 to 4 Stars): INR 2,000 to INR 4,000 (double sharing basis and including taxes)
Average Accommodation Per Person: INR 3,000 (double-sharing basis)
Transfers (Through MTR): INR 500
Meals (Lunch and Dinner): INR 2,500 (Breakfast is complimentary)
Sightseeing of Lantau Island: INR 6,500 to INR 7,500
Miscellaneous: INR 2,500
Average Spend Per Day: INR 15,000 per person
Please Note:
Unless you want to stay in luxurious hotels based on fairy-tale themes within Disneyland, it is recommended that you considering booking your hotel in Hong Kong.
Flight rates have been excluded as it may vary based on the location of the traveler.
An average accommodation rate of hotels in Hong Kong have been included in the average budget per day per person instead of hotels in Lantau Island.
Also, the lower limit has been considered to calculate the average budget per person per day.
Hong Kong & Macau Holiday Packages On TravelTriangle
Visit Hong Kong and explore disney land, ocean park, wet land park, victoria's peak and Lantau Island. Further, explore Macau tower, the Venetian resort, Senedo square and more in Macau.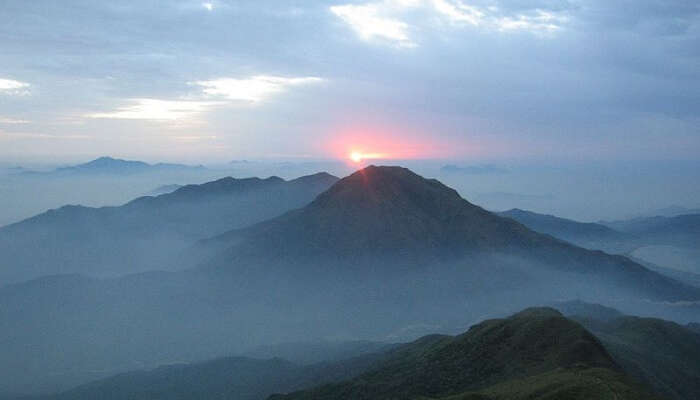 Hong Kong International Airport is the nearest airstrip to Lantau Island.
Via MTR, take the Airport Express till Central. From there, board the Tung Chung MTR and get down at Tung Chung station near Ngong Ping in Lantau Island.
Also, there is Lantau Island ferry service that functions for 24 hours and connects Pier 3 in Central to Discovery Bay in just 25 minutes.
Being the biggest island in Hong Kong, Lantau Island is connected pretty well through the public transport. Though it can be explored the best via cable car ride, below are few travel tips that will make getting around the island, easy.
Rent a bicycle from the shop near main bus stop in Lantau Island.
Take Ngong Ping 360 cable car ride from Tung Chung to Ngong Ping.
Reliable taxi and bus services can also be availed in Lantau Island.
1. The Big Buddha, Ngong Ping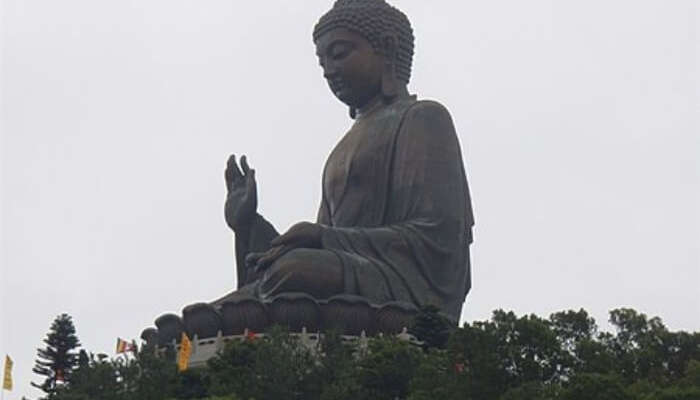 One of the major attractions in Hong Kong, the Tian Tan Buddha or the Big Buddha is the worlds second largest bronze statue. It features 260 steps that leads the travelers to the Buddha statue. One can also see a carved bell, a museum and Buddhist relics within the site.
Timings: Monday To Sundays: 10 am to 6 pm
Average Time Spent: Half Day
2. Po Lin Monastery, Ngong Ping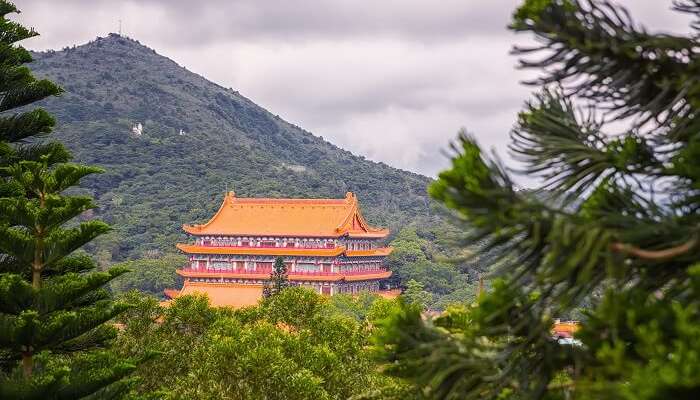 Initially known as Da Maopeng and built by just three monks, the Po Lin Monastery is one of the world-renowned tourist attractions of Hong Kong. The monastery also features the grat Da Xiong Bao Dian, which is the Great Hall of Treasure.
Timings: Monday To Sundays: 9 am to 6 pm
Average Time Spent: Half Day
3. Tai O Village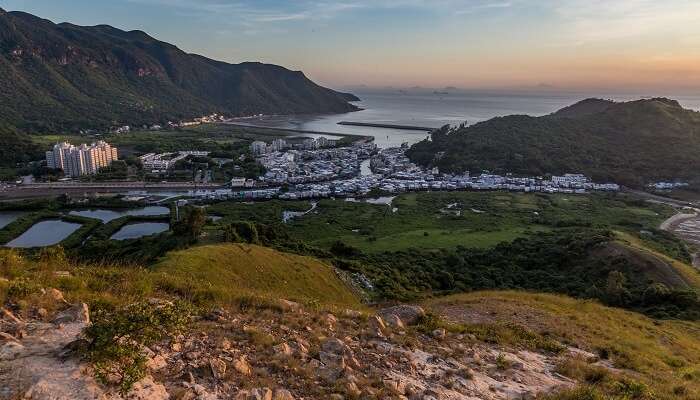 Located on the extreme west of Lantau Island and built on the wooden stilts that stand strong in the water, Tai O is one of the oldest and surreal villages in Hong Kong. Get to this fishermen village to enjoy the best of fishing.
Best For:-Fishing and Photography
Average Time Spent: Half Day
4. Visit Disneyland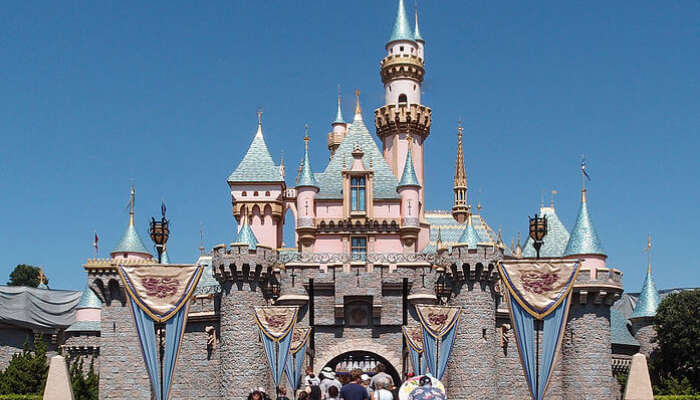 Disneyland in Lantau Island is a dreamland for everyone alike. Whether on honeymoon or not, it is a must to experience all the seven lands of Disneyland.
Average Time Spent: 1 full day
How to Reach: The best way to reach Disneyland is to take the MTR and get down at the Disneyland Resort Station.
5. Cheung Sha Beach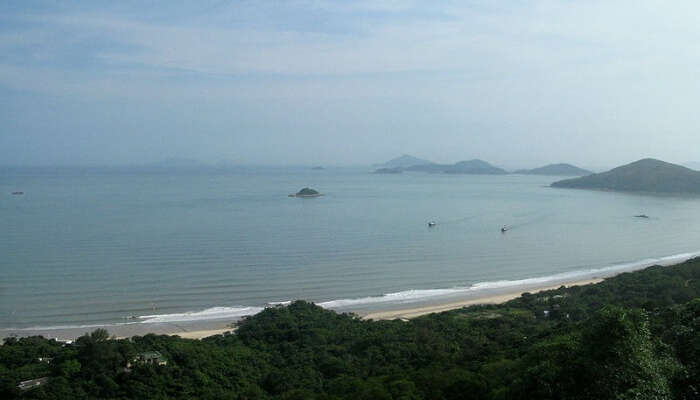 Located in one of the most scenic villages of Pui O, Cheung Sha Beach is the longest beach in Hong Kong. Also, the sunset views at this beach are to die for.
Average Time Spent: Half day
How To Reach: Take a fast ferry from Central Pier 6 and reach Mui Wo in 35 minutes. From there board bus number 1 or 2 and reach Cheung Sha Beach in just 25 minutes.
1. Ride Ngong Ping 360 Cable Car Ride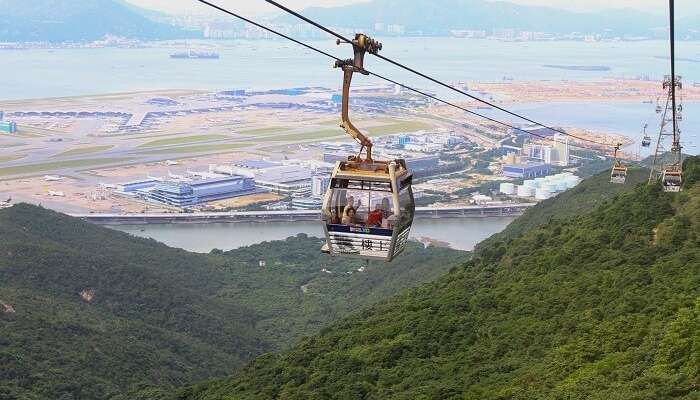 Connecting the Ngong Ping plateau with Tung Chung town, Ngong Ping 360 Cable Car is an iconic ride that lasts for 25 minutes. Such experiences in Lantau Island are the ones that make Hong Kong one of the best dream honeymoon destinations on the whole. Offering panoramic views of Lantau Island, one can choose to take a ride in either standard, crystal, or a private cabin.
Timings: 10 am to 6 pm
How To Reach: Via MTR, take the Tung Chung Line from Hong Kong city center and reach the Tung Chung station in 25 minutes.
Please Note:
Though services of Ngong Ping Cable Car have been suspended in order to carry out a project of rope replacement, travelers can still plan for their vacations in advance.
Cable car rides will resume their services from June 2017.
2. Dolphin Watching Tour at Tai O Village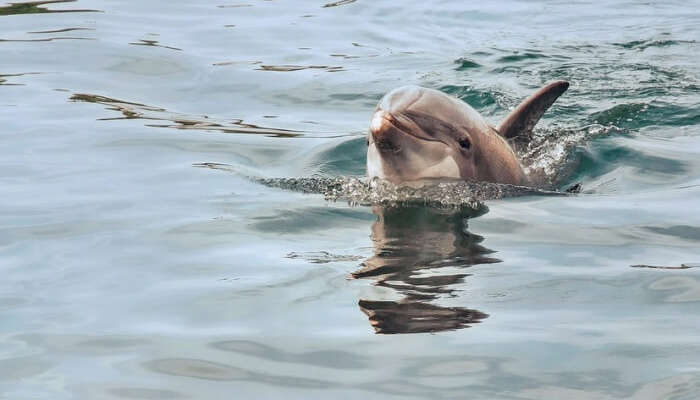 Much famed to be rare and endangered species, there are fair chances that you might get to watch the unique pink dolphins that are often spotted during a boat ride in Tai O village.
Average Time Spent: 2 to 2.5 hours
How To Reach: Bus numbered 21, departures from Ngong Ping Village every hour for Tai O village.
From Central Pier 6, take the ferry to Mui Wo and from there board bus numbered 1 to Tai O village.
3. Watch The Dragon Boat Water Parade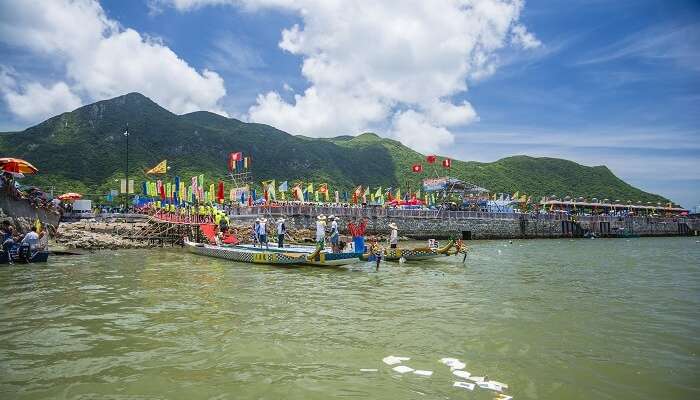 A proper Dragon boat festival, much famed as Tueng Ng Festival, is arranged by fishermen associations every year in May or June. During this festival, deities are carried in sampann throughout the villages. This is the time when residents burn incense and boat races are held to entertain the Gods.
Date of Festival: May 30, 2017
Locations: Stanley Main Beach, Victoria Harbour, Aberdeen, Saikung, Cheung Chau, Tai O, Sha Tin, and Discovery Bay
4. Hike The Lantau Trail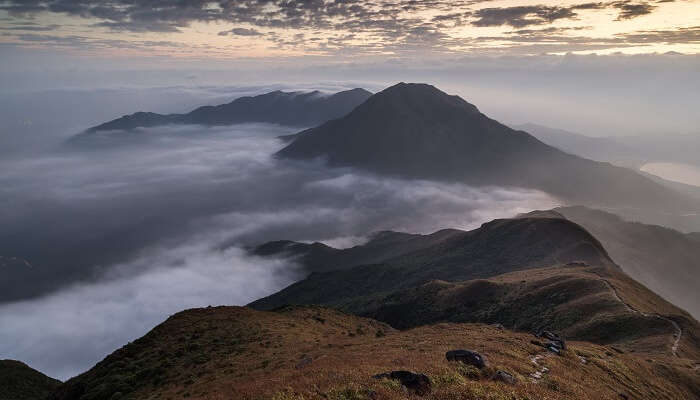 At a stretch of total 70 kilometers, the Lantau trail is much famed to be Hong Kongs second highest summit. The sunrise can be best watched by 6 am for which, an overnight stay at Ngong Ping hostel is recommended as the hike takes about two hours to complete. Being one of the best things to do on honeymoon in Lantau Island, hiking on Lantau trail and the views of sunrise are absolutely worth your time.
Total Distance: 70 kilometers
Starting & Ending Point: Mui Wo
Best Time To Watch Sunrise: December to February
Other Trails On The Route: Wisdom Path, and Sunset Peak
1. Silvermine Beach Resort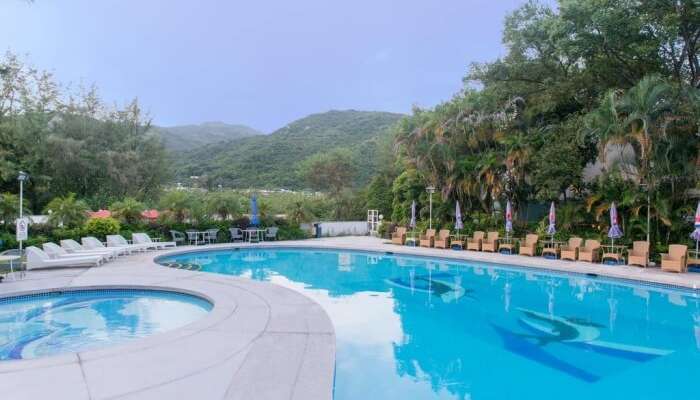 Enjoy a comfortable stay at Silvermine Beach Resort during your honeymoon and enjoy scenic vistas from a beachfront location. You can also indulge in activities such as paddle boarding and so on.
Address: D.D.2 Lot 648, Silvermine Bay, Mui Wo, Lantau Island, Hong Kong
Price/Night: INR 2,700 to INR 3,600 (double-sharing)
Ratings: 3.7/5How To Reach: You can reach the hotel from Mui Wo Ferry Pier in just 7 minutes
Website | Reviews
2. Mia Casa Hotel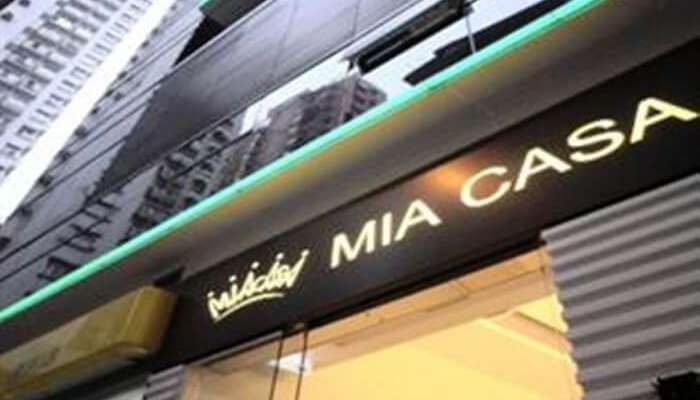 Mia Casa Hotel is a whole new experience in its own. The recently built boutique hotel is located right at the heart of Kennedy Town which connects the hotel to the citys main attractions.
Address: 2 Hau Wo St, Kennedy Town, Hong Kong
Price/Night: INR 6,000 to INR 6,500 (double-sharing)
Ratings: 3.2/5
How To Reach: You can reach the hotel from the citys Central area within 15 minutes.
Website | Reviews
3. Hong Kong Gold Coast Hotel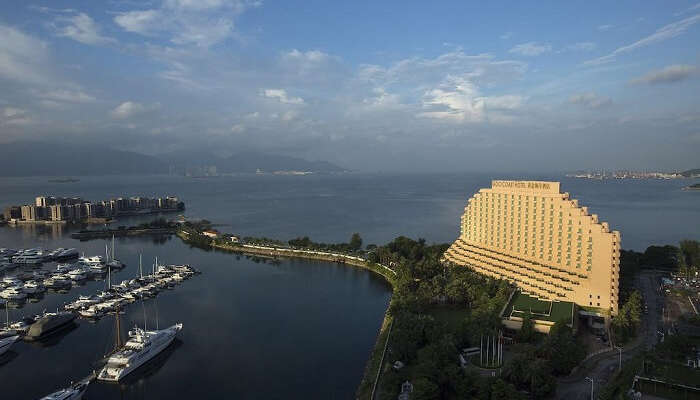 Located on the Golden Beach, this 5-star property of Gold Coast Hotel offers scenic views of Castle Peak Bays marina and attracts a lot of travelers due to its striking facade. Undoubtedly, it is one of the best hotels in Hong Kong.
Address: 1 Castle Peak Road, Tuen Mun, Hong Kong
Price/Night: INR 6,500 to INR 45,000 (double-sharing)
Ratings: 4.1/5
How To Reach: You can reach this hotel easily from Tuen Mun Town Hall as it is just 4 kilometers away.
Website | Reviews
1. Enchanted Garden Restaurant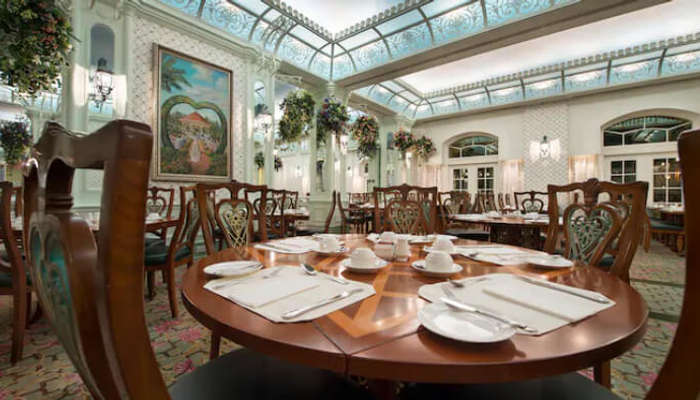 Showcasing the best of Victorian architecture, Enchanted Garden Restaurant offers authentic international dishes and one also gets to meet their favorite Disney characters.
Address: Disneyland Hotel, Disneyland Resort, Lantau Island, Hong Kong
Timings: Weekdays: 7:30 am to 11 am and 5:30 pm to 10 pm; Weekends: 7:30 am to 11 am, 12 noon to 2 pm, 2:45 pm to 4:15 pm, 5:30 pm to 10:30 pm
Ratings: 4.2/5
What To Eat: Anything from the international buffet
Meal For Two: INR 1,800 to INR 4,500
Average Time Spent: 2.5 hours
Website | Reviews
2. OLEA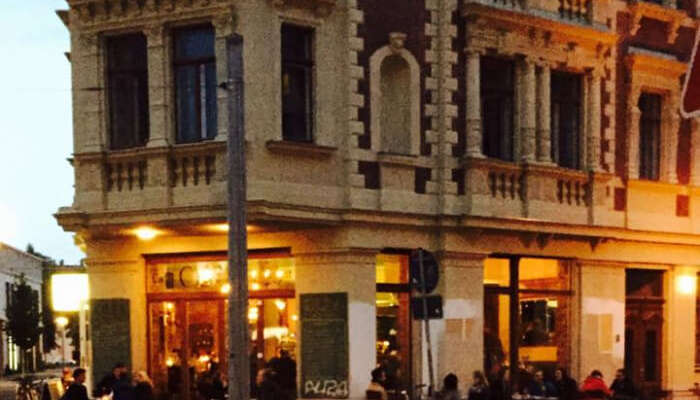 Being a renowned Mediterranean restaurant, one can expect authentic and delectable tapas, homemade pizzas and variety of daily specials at Olea, a restaurant by Novotel.
Address: 51 Man Tung Road, Tung Chung, Hong Kong
Timings: Monday to Sunday: 12 noon to 2:30 pm and 6 pm to 10 pm
Ratings: 4.2/5
What To Eat: Parma ham and smoked salmon
Meal For Two: INR 1,800 to INR 3,600
Average Time Spent: 2 hours
Website | Reviews
Having compiled this detailed guide, we have pretty much done the homework for you. Now all you have to do is, plan for an enticing Hong Kong & Lantau Island honeymoon tour with TravelTriangle and give your married life the perfect romantic start.
People Also Read:
Looking To Book An International Holiday?
Book memorable holidays on TravelTriangle with 650+ verified travel agents for 65+ domestic and international destinations.